Narrowboat sales in East Cheshire
Phone: 01625 420042
Kowka - SOLD
7ft 1995 Liverpool Boats trad stern narrow boat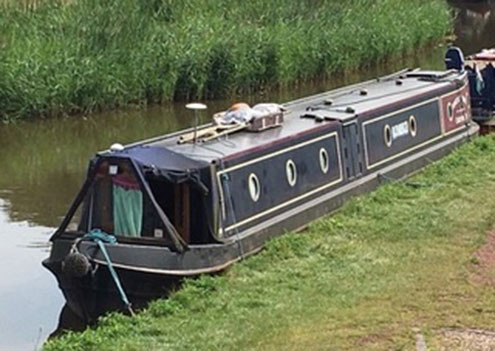 Boat Specs
Builder:
Liverpool Boats
Fitout:
Liverpool Boats. Faced plywood and solid wood. Polystyrene insulation.
Length:
57ft
Year:
1995
Shell:
All steel 10-6-4 mm
Stern:
Trad stern.
Paintwork
-
Layout
Traditional (Bed at stern)
Berths:
6 berth: Fixed double, dinette double, Sofa double
Heating:
Mikuni MX20 diesel central heating with 3 radiators. Heron solid fuel stove with backboiler new 2016
Storage
-
Flooring
Solid timber
Saloon:
Sofabed, recliner. Corner storage and stove.
Galley:
Vanette Supa 5 oven and grill plus 4 ring hob. Fridge freezer, 12v/240v new 2019
Bathroom:
Bath and shower. Thetford PPC2 LA cassette with spare.
Water:
Calorifier

Engine:
Kingfisher KD26
12 volt:
-
240 volt:
240v hook-up. 1kw Streetwise inverter, Sterling Pro-budget PB1220 charger
BSC:
May 2023
Notes:
All portholes fitted with double glazed units 2016
Blacked:
2020 with new anodes
57ft trad style narrowboat.
Kingfisher KD26 diesel engine
Mikuni c/h and Heron stove with backboiler
6 berth, 1fixed double
Thetford cassette.
Please Note: Boat details are believed to be accurate but cannot be guaranteed as they are compiled from information supplied by the owner. They are not intended to, and do not, form any part of the current or future contract.
Prospective purchasers are advised to have an independent survey carried out to satisfy themselves as to the condition of the vessel.
Freedom Boats Macclesfield Ltd., Brook Street, Macclesfield, Cheshire, SK11 7AW UNITED KINGDOM
Telephone: 01625 420042 VAT:980528401
© 2010 Freedom Boats Macclesfield Ltd. design and build by
astoundingdesign